Rexette's (my wife) family all lives in Tampa, Florida. Since we were visiting them this Christmas, we decided to all go to Disney World for a couple of days. Although the Beast was unfortunately not able to make this trip, I still had a "great time, great time."
We stayed at the Dolphin Resort, a Disney Resort where the Beast and I have never stayed. Although it is not a preferred resort for Rex and the Beast (we prefer Animal Kingdom Lodge and the Contemporary), it was very nice and had very comfortable beds (always a plus!).
So, leaving the Dolphin we made our way over to Epcot on Saturday (the family took the water taxi and Rexette, KCoaster (one of Rexette's sisters) and I walked over. Epcot was not overly crowded for the weekend before Christmas and we were able to enjoy the atmosphere and get in a few rides, even though we did not show up until around 5:00. Rexette, KCoaster and I were able to ride Mission : Space (their first times) and as we hit liftoff, I heard quite a scream from the Navigator's seat (Rexette)!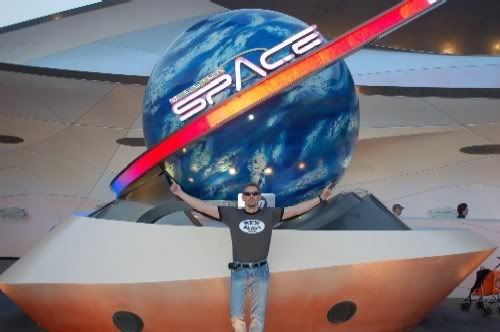 (We did the full version, of course). I was also able to ride a soft opening of the refurb of Spaceship Earth, and will have some comments on that in a later blog. The fireworks were great, and overall we had a very nice day.
On Sunday we hit the Magic Kingdom. Unlike Epcot, it was totally packed, moving was nearly impossible. We also had 8 people there, three of which were kids and a few fairly slow-movers, so hitting a lot at the park was going to be out of the question. However, we still managed (due to the greatness of Rex's system for using the Fastpasses, etc.) to hit Big Thunder Mountain Railroad, Splash Mountain, Pirates of the Caribbean, Space Mountain, the Christmas Parade, the lighting of Cinderella Castle, Its a Small World and a few others. Cinderella Castle was absolutely amazing, when they lit the castle the crowd's gasping was heard all over the park. I have some great pictures of that (one of which is below) and other things that we will have up on the site very soon.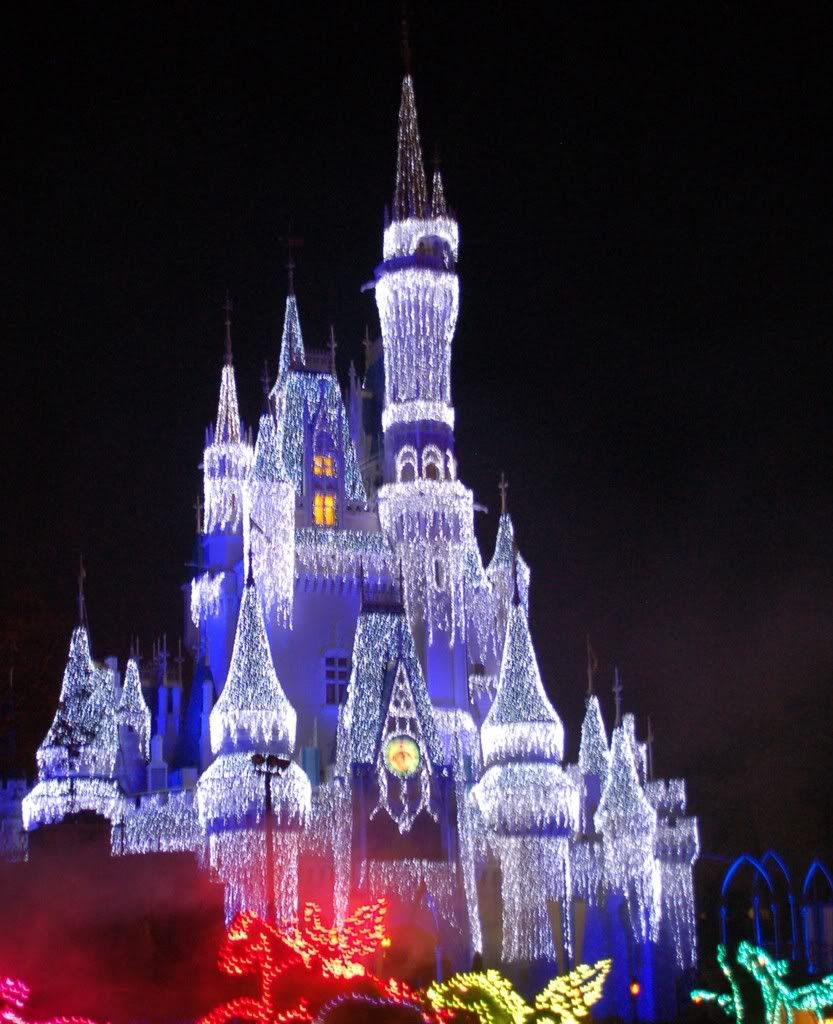 I'll follow up with another post or two on a couple of points of the trip, but just wanted to give you that quick update for now. Talk to you soon. Also, since the Beast didn't make it, I have inserted a Rex and the "Beast" pic below.
Join the Journey!