Opening day at Elitch Gardens was on Saturday, May 1st and of course Rex and I were going to be there documenting all of the action. For those of you who don't know, Elitch Gardens is our home theme park. Unfortunately, I (The Beast) woke up sick and had to shoot Rex a quick text message saying I needed a few more hours before I could hook up with him. Rex, being the professional he is, walked on over to the park in my absence (he lives within walking distance) and shot a few pictures of the opening day crowd as the gates were opening. It was a good crowd that was welcomed by a marching band. One of the things Rex noticed during his brief trip to the park prior to my arrival was that there were these strange boxes located around the park with big question marks on them. Although he didn't realize it, these would come into play later in the day.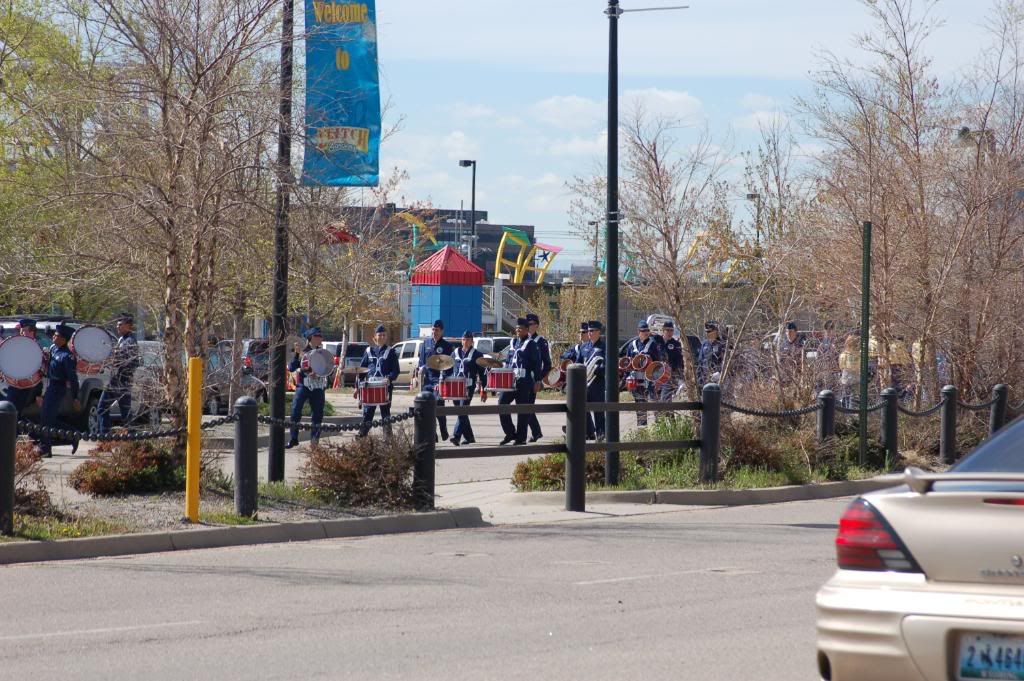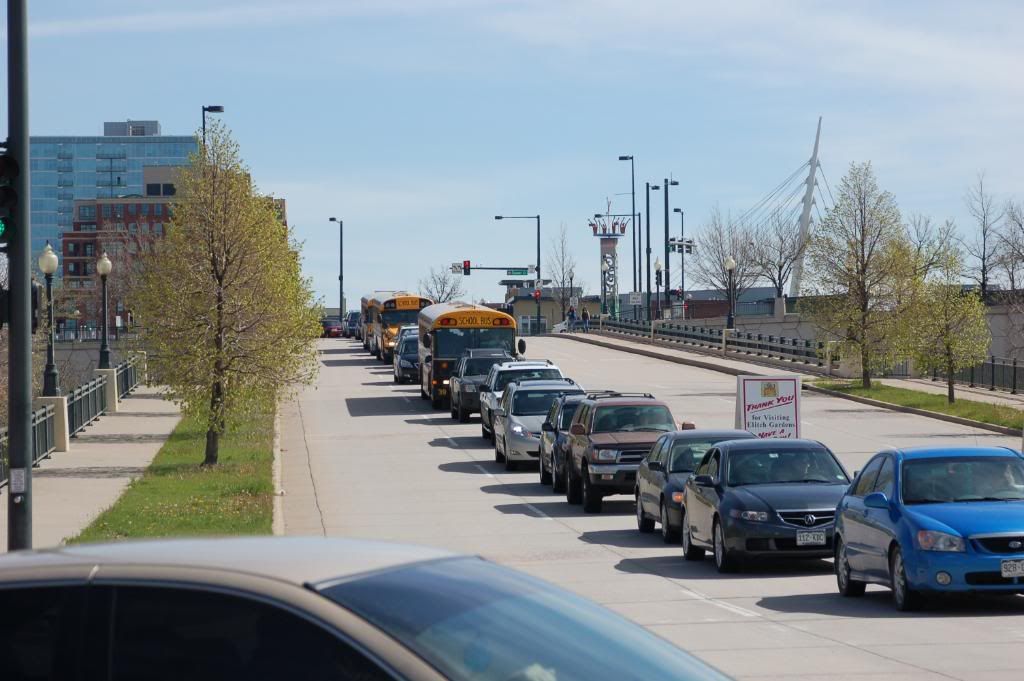 Once I finally arrived (still feeling a bit weak), we shot a quick video welcoming everyone to the opening day of Elitch Gardens and the opening day of the 2010 season for RexandtheBeast.com. We had purchased our season passes online, but still needed to take our pictures and get our card. The season pass location at Elitch's was pretty busy and very confusing. Hard to believe they are not able to get a better system down than what they have going on there. Granted, it was opening day, but still – not good. The way they take the photograph is pretty darn hilarious, they hold a web cam up in front of your face about 4 inches from your nose. I thought it was so funny I made Rex snap a quick video of the encounter, which you can view below.
After we had our passes in hand, we made our way though the gate and was ready to start capturing our adventure when these big cut out numbers caught our attention just inside the park. The numbers read "120" and there was a table and a couple of guys set up next to the numbers. We knew that it had to have some parallel with the 120th anniversary of the park. So, Rex and I headed over to see what was going on. Little did we know that our opening day exerpience was about to be radically changed.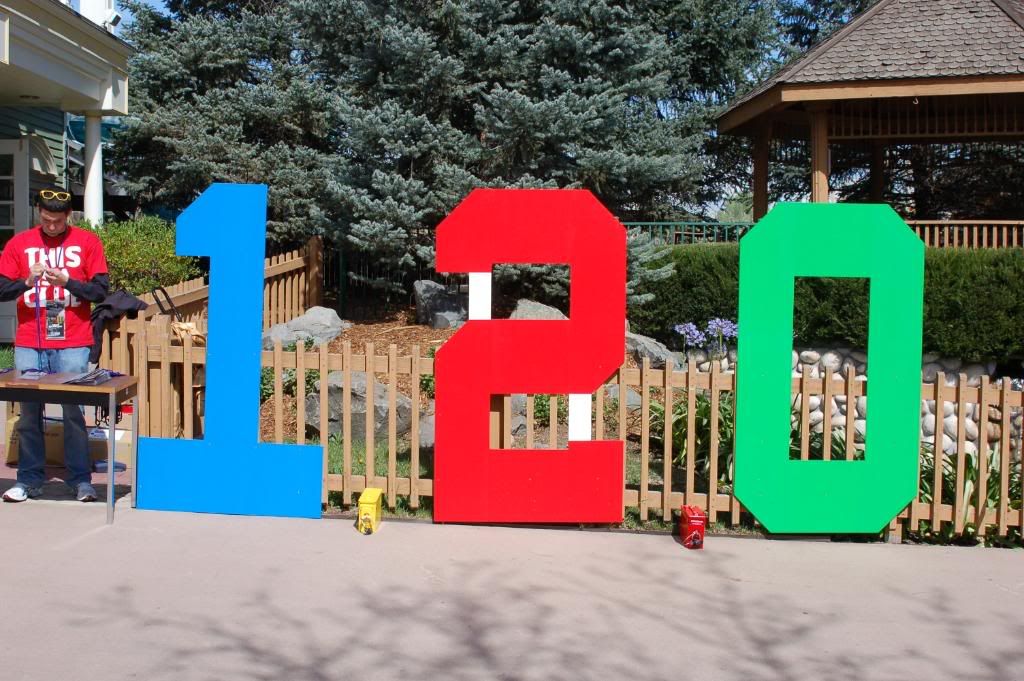 Once we found our way to the table, we noticed the words "This Is A Clue" on the guys shirts and brochures. Suddenly the strange question mark boxes from Rex's early morning visit were starting to make more sense. A cool guy named Greg briefly introduced to us the concept of the game, which is very similar to "The Amazing Race." Basically, there are clues hidden all over the park and you have to solve the riddle and find the combination to open a box, which then leads you the next clue. You are trying to determine who is the true beneficiary to Mary's will (a fictional story tied in with Elitch Gardens). Rex and I were immediately interested and wanted to see how well this might work in a theme park. So, we agreed to give it a try and write up a review of the experience. We set out on the "red" course (there was also a yellow, with blue and green coming later in the season).
The instructions were extremely brief (by design I think) which means we basically had to figure out the game by ourselves. Which we did with no problem. After about 15 minutes, we had already solved our first clue and were on our way to finishing the red course in record time. Some of the clues were more difficult than others, some forced you to ride the attractions (even a roller coaster which we thought was interesting), but all were well thought out and entertaining. Rex and I managed to finish the red course in about an hour and a half. Although we are going to be podcasting and writing a separate, detailed review about the experience, let me say here that it was worth our time and something we will definitely do again. It is enhanced by the great energy and personality of Greg and Brian, the owners, who have an obvious love for giving people a great time. There are a couple of items that Rex and I thought might need tweaking, but overall this is a thumbs up experience for both of us. Rex and I are interested in seeing how we might be able to partner with these guys in the future. You can visit their website at www.thisisaclue.com
While on our expedition, we had time to scan the opening day festivities of the park. Several attractions were not operating, such as Tower of Doom, Shake, Rattle, and Roll, Halfpipe, Sea Dragon, Shipwreck Falls, and Cactus Coaster. Thankfully, all three major coasters, Mind Eraser, Twister II, and Boomerang, were all in operation. The park is adding some new shows this year, including a "Bob the Builder" childrens show and a "Rocknation: Don't Stop Believin" show. The day will end with an apparently new "state of the art enhanced visual display" show. In my experience most laser shows fall flat, but we will wait and see how it looks before offering any judgment on that one.
Finally, the park looked pretty good. They had done a good job of cleaning, doing some painting, and preparing things for the 2010 season. Elitch's has had a history of struggling to keep rides in operation, so I hope to see some of these more popular rides, especially Tower of Doom and Halfpipe, up and operational soon. Rex and I will keep you informed on the progress of the park.
Click here to view all the photos from opening day.
Click here to listen to our podcast about Elitch's opening day.
Click here to subscribe to our podcast.
RexandtheBeast.com – Join the Journey!