Goodness, life has been busy for Rex and the Beast! Sorry for the lack of updates as we approach our favorite time of the year, but things are beginning to fall into place nicely for the Festival of Fear Tour 2010. Here are some of the things we have cooking this year. . . .
This weekend Rex and I will be heading out to the opening night of The City of the Dead Haunted House right here in Denver, CO. Audio Journeys with Rex and the Beast is the official podcast for The City of the Dead this year and we will be doing some on-site coverage of the event, talking to some of the guests, and giving away some prizes. Our hats off to Randy and Tracie, owners of The City of the Dead, for their openness to partner with RexandtheBeast.com and their professionalism. There are several things we are doing with this great haunt, including the filming of a "behind the scenes guided tour" through the haunt, which will be made available soon through the website. I had the opportunity to walk through the haunt today during their last minute touch-ups and it looks terrific. If you are in the Denver area, this is a must see. Rex and the Beast guarantee it!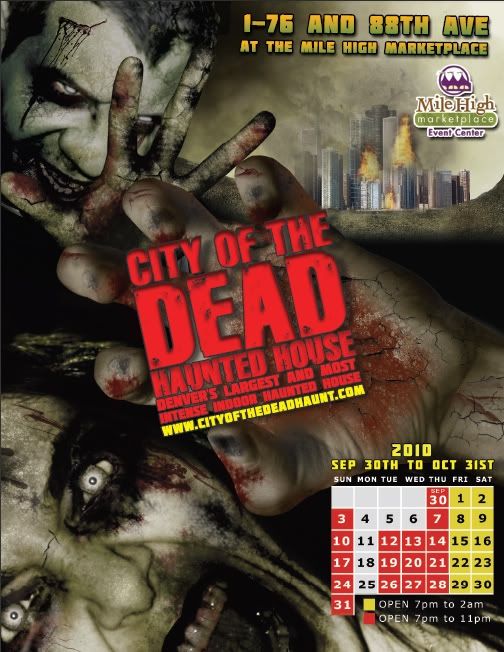 The following weekend, Rex and I will hopping on a plane and traveling to the other side of the country to beautiful Tampa, FL. There we will be experiencing and reviewing two the best haunted events in the country: Howl-O-Scream at Busch Gardens in Tampa and Halloween Horror Nights at Universal Studios in Orlando. These two events always deliver fantastic houses, creepy scarezones, and great service. In addition, I (the Beast) will be attending the Spooky Empire Horror Convention in Orlando on Saturday, October 9th and will be able to meet some of the greatest names in the horror industry, including John Carpenter. It will be an incredible weekend for RexandtheBeast.com.
After we return from Orlando, our next move will be visit Elitch Garden's Fright Fest and document some of the excitement with their haunt as well as do some podcasting inside the gates. We were pleasantly surprised by last years event and look forward to partnering with Elitch Gardens this year with their attraction. We were able to establish a nice relationship with the cool cats over at Elitch's during the summer and are excited to be working with them again.
Then, on top of all of that, Rex and I will visiting most of the remaining local haunted houses in the Denver area, providing a comprehensive review database right here on the website. So whatever you do, keep coming back and checking out the site daily for updates on our Festival of Fear Tour 2010 progress!
Join the Journey!