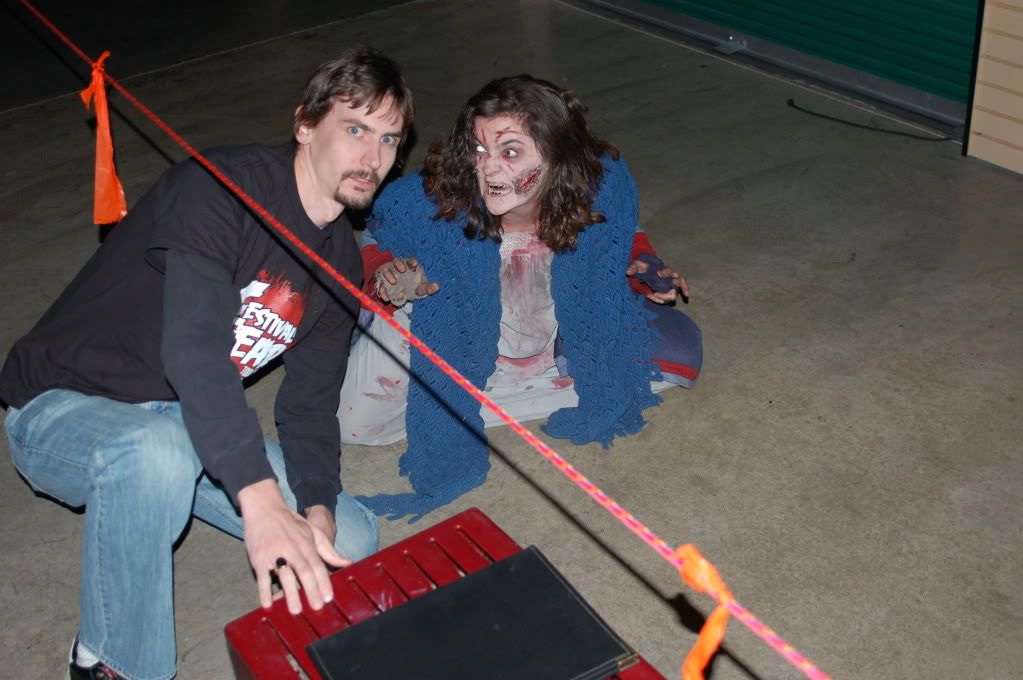 The first stop on the RexandtheBeast.com's Festival of Fear Tour 2009 was the haunted attraction Mind Seizure located in Colorado Springs, Colorado. This haunt was recommended to us by a friend and we were eager to get the tour started. After picking up some Bambinos from the local GoodTimes, we hit the road jamming to a little XM radio (80s on 8 of course). Our trusty GPS alerted us that we were close by, so we pulled into the Mind Seizure parking lot.
SPOILER ALERT – From this point forward there will be some inside information concerning Mind Seizure.
The parking lot and outside area of Mind Seizure was rather dark. If you were not looking for it specifically, you would not necessarily know there was a haunted attraction nearby. The haunt does have a nice billboard on the premises, but other than that it was poorly lit and not "buzzing" enough with excitement. Part of this could be due to our going early in October, however, it still could have had a little more initial punch. We eventually made our way to the side of the "flea market" where the haunt was housed. There were two very friendly ticket counter staff people who were happy to see RexandtheBeast.com at the haunted house. We inquired as to the availability of the owners to speak with us after we experienced the haunt and they assured us we would have an opportunity to talk with them. We then made our way to the queue area.
The line on October 2nd was not bad at all, there were only 15 people in front of us. There was a television hanging overhead that was playing clips from Young Frankenstein and Michael Jackson's Thriller. That was a nice little touch. Soon, the moment was at hand and we walked through a curtain to a small landing that had 4 or 5 stairs leading down. We were instructed not to go down the stairs until the doors opened. What stood before us was a pretty large arch with a skeleton head at the top center. On the sides were ghouls which would blow smoke. The skeleton would tell a joke and then give instructions for the house. The arch looked great, but unfortunately lost its effectiveness when the audio from the skeleton could not be heard. It is untelling how much money Mind Seizure invested in this great prop only to weaken its effect by filtering the audio through a $25 Radio Shack speaker. That is one area that must be addressed. It is also difficult to hear the skeleton due to the enclosed nature of the haunt (which is housed in a flea market) so all the screams, chainsaws, and horror sounds can be heard fairly easily while attempting to listen to the skeleton go over the rules. So, the arch had those two things working against it.
Once the doors of the arch opened and we made our way into the first room, we encountered what would be the overriding theme for Mind Seizure – live actors working hard and remaining in character with a de-emphasis on props. Within 10 seconds, we were greeted by 3 zombies, one of which was crawling on the ground in a very creepy kind of way. And thus it would be for the remainder of the haunt – room after room of live actors doing their thing. There was never a time during our walk through Mind Seizure where a live actor was not in sight, save for the quick trip through the bags that squeeze against you as you walk. That is a good thing for the most part, although as Rex pointed out, the lack of breathing room and darkened areas does not allow tension to build. Instead, you are always releasing tension in Mind Seizure.
One highlight of the haunt is an elevator sequence where you are face to face with a ghoul and have nowhere to go. This was very effective, especially if there would have been more people (including some girls) with us (Rex and I went through the haunt without any other people joining us). There is also a "ring around the Rosie" character leading up to the appearance of Rose, the main character on whom the haunt is based. Both of those characters were scary, creepy, and added a great scene for the haunt. The hangman room is also pretty good, with some good attempt at misdirection – while you are worried about the two figures hanging by rope, a guy shackled in stocks attempts to break free behind you.
After the final sequence of the haunt, which is not the strongest room for an ending, we were pleased to meet up with Josh and John, the owners of Mind Seizure. After sitting down and talking with them about some of the particulars concerning Mind Seizure, we came away with the thought that these two guys are well spoken, have a real heart for what they are doing, and most importantly, are not arrogant. They have some innovative ideas, especially concerning how the scareactors relate to one another in the house, a concept that I would not be surprised to see catch on in the industry as a whole. Josh and John have only been owners of Mind Seizure for 2 ½ years, so they are still very much in the building and development stage in terms of bringing their own flavor to an already established haunt. RexandtheBeast.com can confidently say this: Mind Seizure will be getting better year after year. Go check it out if you get a chance.
Strengths – Hard working actors, strong leadership and ownership, friendly support staff, some strong rooms.
Weaknesses – length of the haunt vs. cost, lack of dark areas/tension build up, failure to clearly incorporate the storyline into the attraction.
Rex's Festival of Fear Haunt Rating: 6.0 out of 10 stars
The Beast's Festival of Fear Haunt Rating: 6.0 out of 10 stars
Overall RexandtheBeast.com Festival of Fear Rating: 6.0 out of 10 stars.
To listen to our podcast on Mind Seizure for even more analysis, click here.