The Ride with Rex on Diamondback–First Ride on Opening Day went great–once I got to Kings Island. Some of the travails of my trip are listed below.
I headed to the Denver airport in a raging blizzard Friday morning to catch my flight to Dayton, Ohio. After waiting for a few hours, that flight was unavailable, so I headed back home to wait for the 6:50 p.m. flight. At 4:00 p.m. I headed back to the airport to wait for that flight (the last available–if this one didn't go I would be missing opening day). The blizzard let up a little around 10:00 and we actually got going around 11:30 p.m. Due to the time change, that meant I would be arriving in Dayton around 3:30 a.m. In the meantime, I made contact with Kat (the winner of Ride with Rex on Diamondback) and told here of the situation. We had contingency plans in place if I didn't make it. I also called the car rental company and they said they would have an agent there when I arrived no matter how late (since they closed at 11:00 p.m. and I would be arriving at 3:30 a.m., I didn't put a lot of faith in that, however.
So I arrive at Dayton around 3:30, walk to the rental counter and…there is the Budget worker waiting at the counter for me! Unbelievable customer service–a big shout out the Budget Rent-a-Car! So, now I head to Mason, Ohio to look at my hotel (since that is about all I will have time to do before I have to head to Kings Island at 6:00. Then I realize I have to pick up a miniDV tape for my camera; RexandtheBeast.com has to have video from this awesome event! A quick stop at a Super Wal-Mart fills the bill. I then cruise into the Hyatt Place around 4:45, check in and tell the desk clerk I will be here about 45 minutes, and he cuts the rate more than in half for me due to my late arrival–props to Hyatt Place as well. I grab a quick shower, look longingly at the Hyatt Grand Bed in my room–and hit the road.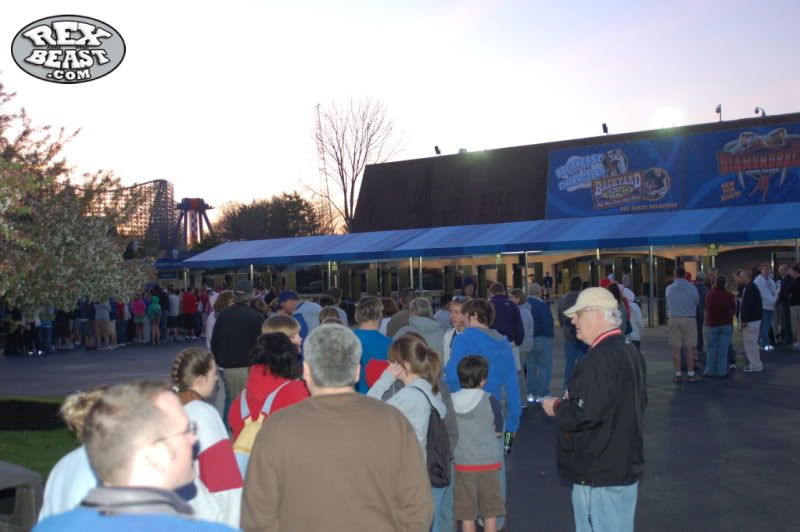 I arrive at Kings Island at 5:50 and the gates to the parking lot are not open yet. There are about 12 cars in front of me waiting for the opening. About 6:05 the gates open and in we go. I get the still camera, the video camera, the RexandtheBeast.com items together and head for the gates. When I get there, the auction line is off to the left and I jump in line to get my and Kat's info. Amazingly, there is already a 100-200 person line for the season pass holders (and they can't even get in until around 9:00!). About 6:45, Kat shows up and we are pumped to get in the park and head toward Diamondback. Kat is wearing a great KICentral hoodie she created herself and I am in a RexandtheBeast.com shirt.
So, a little after 7:00 we head into the park, then we wait in front of the fountains looking at the Eiffel Tower for a few minutes until they start taking us back to the Diamondback area. I have to say things are fairly disorganized back there, but they ultimately got it together and we were all heading to Diamondback around 8:30. Kat ended up being rider 89 and I was rider 90. Another RexandtheBeast fan, Matt, was number 91, and we all headed up to the queue (not the "que" as Kat wanted to make sure everyone knows) together. We all decided to ride in the back (Jackson, another huge KI fan who was spouting Diamondback trivia all morning was also with us), and were on quickly. The ride vehicles were awesome and I was really pumped to get rolling–and off we go! Heading up the lift hill I looked around the park and was really getting pumped..then we hit the first drop, and it was awesome. On both the first and second drops I thought I was going to get thrown out of my seat. The airtime was awesome, the speed was awesome even the rooster tails at the end were awesome. A great, great ride. Once it was over, we all went to get our free on-ride photo and to talk about the first ride. There I ran into Todd, another participant in the Ride with Rex contest who still got to be on the ride, and even ended up on the same ride as me and Kat. I also was grabbed by a reporter and did a quick interview on my experience getting to Kings Island and on Diamondback.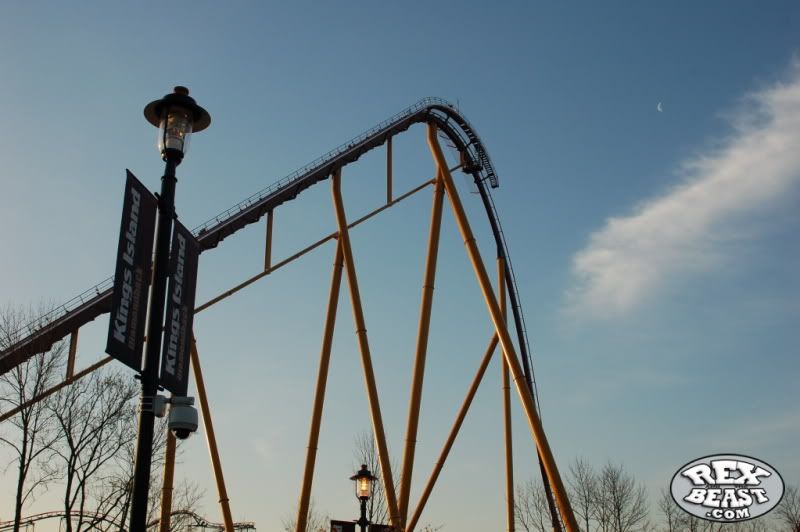 After the Diamondback first ride was over we met up with a number of other KICentral folks, including Avatar and others. We decided we had to hit the Beast next. We got over there and since I had not ridden the Beast in 10+ years, I had a great time. Avatar and I rode together and had a good discussion regarding the history of the park, coasters in general and the old Beast Lake (which many of the younger fans didn't even remember).
We then headed over toward Flight of Fear–but I had to peel off and call the Beast to update him on the day so far. Remember the Beast was not able to join us due to an illness, but we will both be doing a RexandtheBeast.com trip back to Kings Island very soon. I told the Beast how great Diamondback was and what a fun group I have been hanging around and then started to walk around the park shooting some video for our site. I was already getting pretty tired due to the lack of sleep, so I knew it would be a short day for me. As I kept walking around the park, I was constantly being called out to by others to take pictures with them (Kitten and John, I remember you specifically) and to tell me how much they loved our site. That was really great and I appreciate all of the kind words.
I know I was winding down, so since Kat's phone had died, I called Angie (Kat's friend who was with us most of the day as well) and found out they were heading our of the park to La Rosa's to grab a bite, and they asked me to join them. I did so, and was nearly falling asleep in my ravioli, so I had to head for the hotel in Dayton to get some rest. However, as I was driving to Dayton I realized there was an evening flight back to Denver, so I called and got on that flight (ultimately ending up with the same flight crew that I came in with at 3:30 the morning before–they were all pretty surprised to see me again so soon), ending up back in Denver at 6:00. I was asleep in my bed by 7:30 p.m. and did not move until 11:00 a.m. the next morning, exhausted but smiling from a great, hectic 24 hours including opening day at Kings Island!
The Beast and I will have a podcast up soon regarding this trip, pictures, and we will also have a trip video as well. We will post and update you when each of them are ready.
Thanks for everyone who has Joined the Journey with RexandtheBeast.com!